Bridport: Defibrillator installed in Bradpole thanks to village fete, generous donations and parish council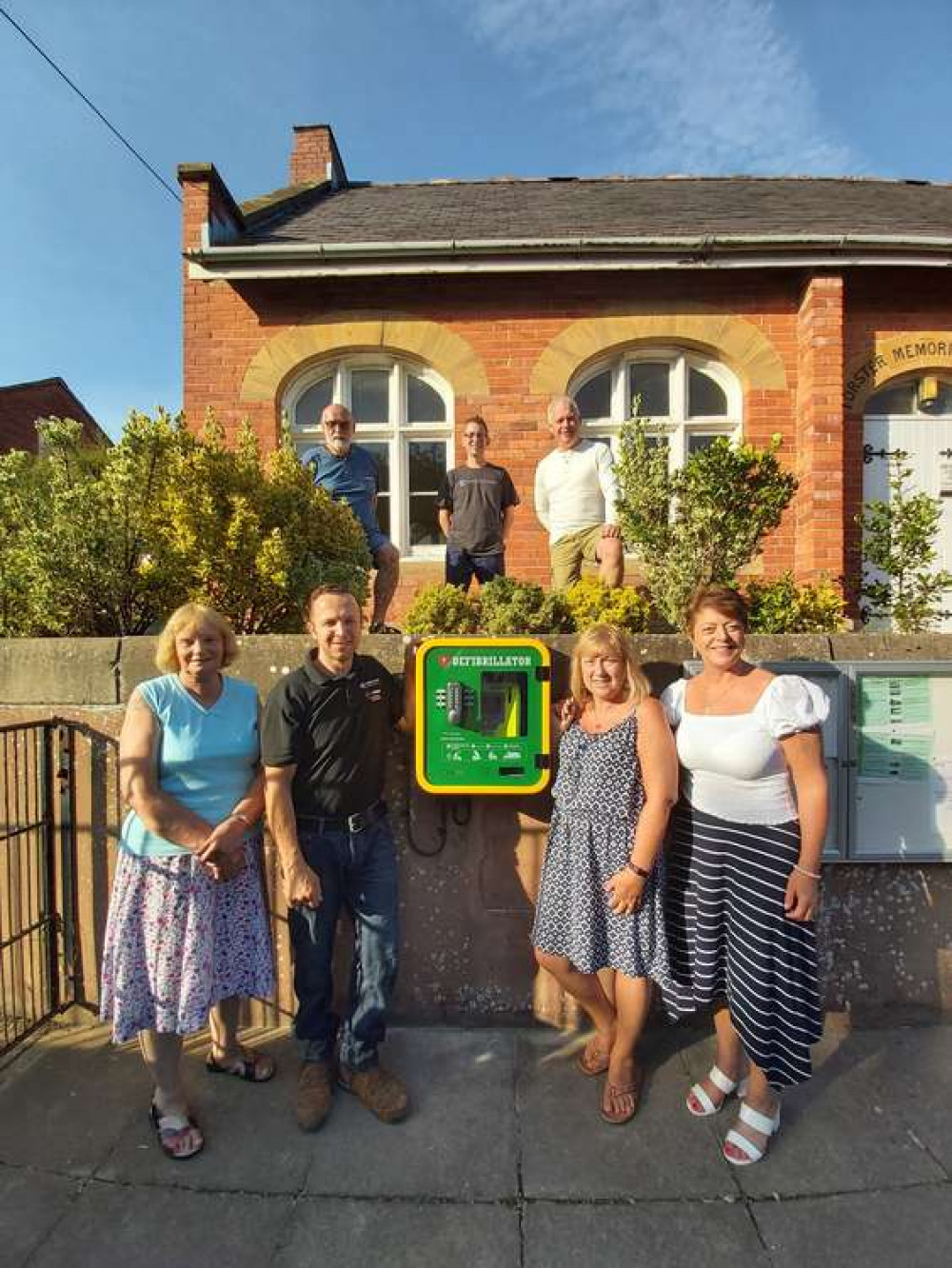 Top row from left; Colin Baker, Bradpole Parish Council chairman, Jody Leaf and Paul Butt of Bradpole Fete Committee, front row from left; Wendy Smart, Bradpole parish councillor, Robert Stephenson electrical contractor, Dawn Adwick and Claire Botten of B
A defibrillator has now been installed in Bradpole thanks to generous visitors to the village's fete and parish council.
Following the success of the 2019 Bradpole Fete, the fete committee and Bradpole Parish Council have shared the cost equally to purchase an automated defibrillator and heated cabinet, which has been installed outside the Forster Memorial Village Hall on Higher Street.
The heated cabinet ensures the defibrillator is kept within its operating temperature to enable it to be used at any time.
The defibrillator is automated with clear step-by-step instructions, so anyone can use it. In the event of needing the defibrillator, the user should call the emergency services to be given the cabinet code for access.
Although it can be used by anyone, the parish council will be arranging an automated external defibrillator training course in the near future.
The cabinet is fed by a dedicated electrical supply from the village hall and was installed by H Leaf and Sons Ltd and RN Stephenson Electrical Contractors Ltd free of charge. The Forster Memorial Hall trustees kindly gave permission for the installation, which was celebrated with members of the Bradpole Fete Committee, Dawn Adwick - also representing the village hall trustees - Claire Botten, Paul Butt and Jody Leaf. Electrical contractor Rob Stephenson was in attendance as were members of the parish council; Colin Baker, Wendy Smart and Jo Hughes.
Bradpole Fete last took place on Saturday, June 1 with the intention of funding a village defibrillator.
It was with the many pre-event donations and funds raised on the day that the fete committee were able to contribute to the cost of the defibrillator with the parish council, which will own the unit.
The unit will be checked regularly by volunteers to ensure that it is fully charged and ready to use.
It is hoped that the Bradpole Fete will go ahead again in 2022.
Don't forget to sign up to our newsletter below!
You can submit your own news straight to Bridport Nub News by using the 'Nub It' button on our home page. This can also be done for events on our What's On page and businesses, groups and organisations on our Local Listings page , also by using the 'Nub It' button.
Please like and follow our online newspaper on your favourite social media channel. You can find us @BridportNubNews on Facebook and Twitter.