Seasiders saddened by death of another much admired player
---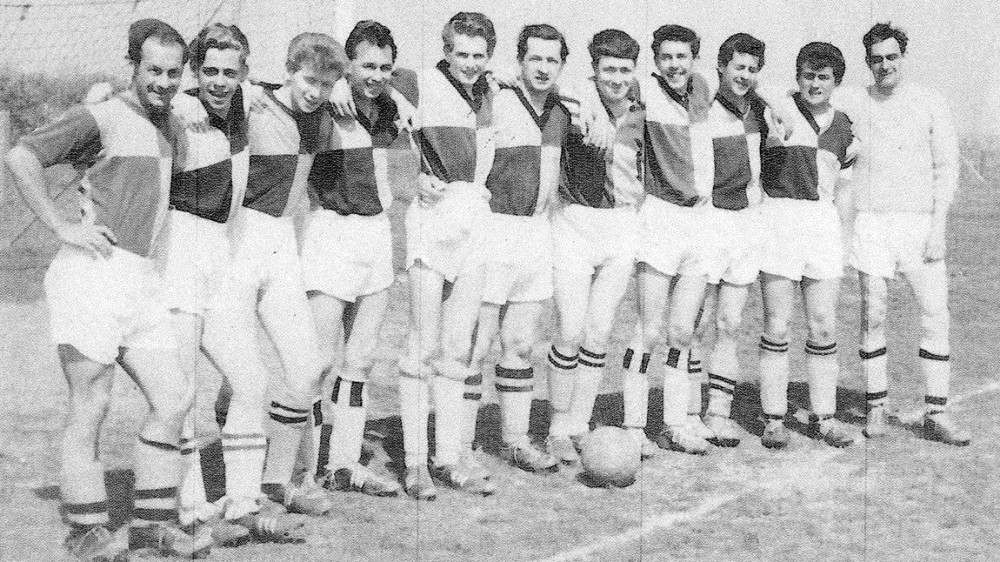 Ginger Bartlett (third from the left) pictured in a Lyme first team of the 1960s
THESE are certainly sad times for Lyme Regis Football Club, one of the town's oldest organisations, having been formed in 1885.
The club recently bid goodbye at a packed wake in the Davey Fort clubhouse for Steve Rattenbury, a member of a family synonymous with the football club. Steve's father Dave was a much respected chairman and former president and three of his brothers Stuart, Brian and Andy played for the Seasiders for many years.
Steve was a life-long supporter and was a familiar and popular face at the Davey Fort.
The club recently loss former club captain Stuart Broom, another member of a family with strong links to Lyme Regis FC. Stuart's Dad, Gordon, was a former club chairman and his two brothers, Robert and Keith both played for Lyme as did his nephew Jon Broome who, like his father and uncle, were former club captains.
This week the club was saddened to hear of the passing of another respected player, Geoffrey "Ginger" Bartlett. Ginger was a clever inside forward who played throughout the 1960s alongside players like Derek Hallett, Johnny Evans, Graham Gay, Pat and Henry Rice, Fred and Arthur Hodder and former manager David Cozens MBE.
Ginger was popular around town and worked for a while on the pleasure boats. It was during this period that he met a visitor from America who he ended up marrying in Hawaii. No, we couldn't believe it, either!
Ginger was a fanatical Tottenham Hotspurs supporter. For a five-year period when I worked in the media in London I was a vice president at Spurs and was able to treat him to a day's hospitality at his beloved White Hart Lane. I've never seen anyone so excited especially when he met two of his footballing heroes, Gary Mabutt and goalkeeper Pat Jennings who stayed and chatted to him for nearly an hour.
On the drive home to Lyme afterwards Ginger never stopped talking about his day at White Hart Lane and every time I met him in the following years he would always say it was the best day of his life.
Apart from being of good footballer, Ginger was a half decent cricketer, a medium pace bowler, and was always excellent company in the bar after games.
Another great loss to the Football Club has been the passing last May of our legendary unofficial caretaker, Kenneth "Cooey" Hitchcock. Cooey had been connected with the club for more than 60 years as a player, committee man and volunteer. Stories of his antics as a player are the stuff of legend.
In retirement he went up to the Davey Fort virtually every day of his life. In 2020, with the pandemic raging, he manned the car park throughout the summer, raising £17,000 from parking fees which kept the club financially alive whilst there was no football at the Davey Fort.
We have lost so many great footballing characters in such a short time leaving a huge void in the life of Lyme Regis Football Club
But as we say: "Once a Seasider, always a Seasider".
Philip Evans MBE
Club President