Residents' concern after police intervene in issue between consituents and MP over river sewage pollution but Chris Loder says it was not his doing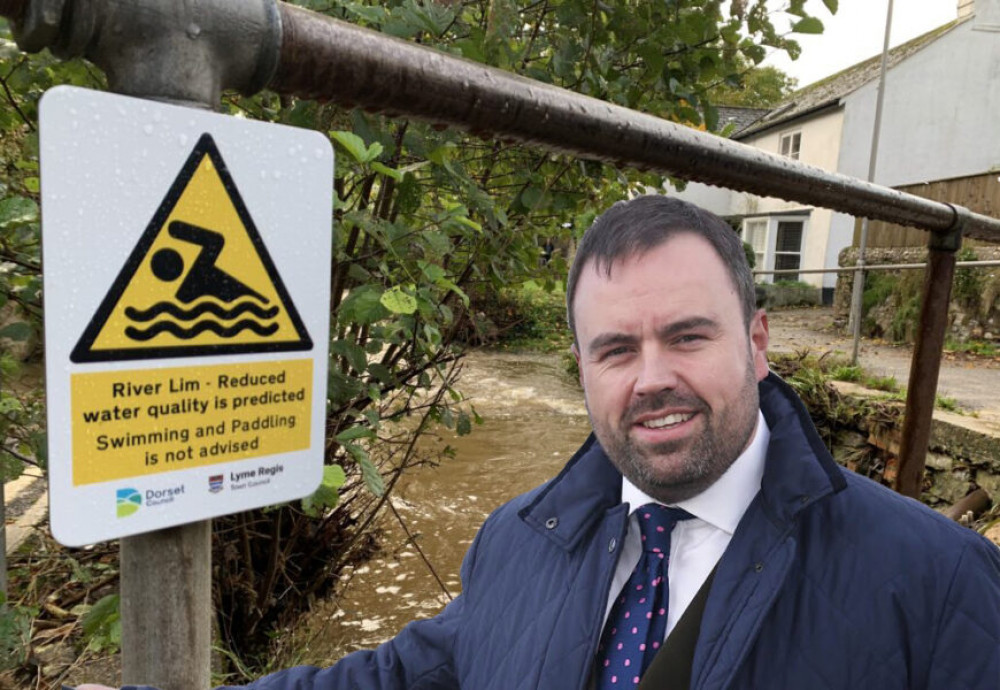 Two West Dorset women have said they were visited by a police officer in an act of "intimidation" after raising questions regarding sewage pollution in local rivers and bathing waters with their MP.
Beverley Glock, from Lyme Regis, and Fran Swan, from nearby Fishpond, both received home visits from an uniformed officer after emailing concerns over sewage pollution to West Dorset MP Chris Loder.
They had planned to raise their concerns at a public meeting that Mr Loder was hosting in Chideock, but were told they needed to submit their questions to the MP in advance.
After emailing him, they were told the meeting was specifically for residents of Chideock, but Mr Loder replied: "Let me know which villager has invited you and I will come back to you to see what we can do."
Then on the evening of Thursday, 24 November – the night before the public meeting – both women received house calls from a Lyme Regis police constable after dark, with the officer reportedly saying they had received an email from Mr Loder's office and had been directed to find out their intentions in wishing to attend the public meeting.
Ms Glock was out at the time of the visit but Ms Swan had been home.
She said: "This was alarming as the visit took place in the evening; we live in a remote location and we were concerned to see torchlight outside, and surprised to find a police officer on the doorstep.
"My application to attend the meeting was above board and obviously I had to put my address down.
"I received an email directly from Chris Loder and responded to that. This indicated I was not just going to turn up if I wasn't given an invitation.
"There was absolutely no reason for the police to visit – it appeared to me that this was an attempt to intimidate even though the officer was very polite about it."
The action has been criticised as a waste of police time and resources.
In response, Dorset Police have issued the following statement: "We are aware of this report and will be reaching out to the individuals involved so we can establish the full details of any complaint."
Ms Swan has since written to Mr Loder to ask why the police were involved, saying: "My actions in applying for a place to attend the meeting and giving forward notice of the question that I would have wanted to ask are wholly appropriate for any constituent.
"I can see no possible legitimate reason that my approach should have initiated the response that it did, either from you and/or your office, or from the police."
Neither women attended the public meeting in Chideock, as in a final email from Mr Loder, after the police visits, they were told that it was "oversubscribed" due to a large number of Chideock residents showing interest.
Responding to the claims, Mr Loder said he did now always have to consider his personal safety, but he had not requested the police to visit anyone in this incidence.
His full statement read: "Any one of the 40-plus people who attended the Chideock village meeting will attest that the meeting held on Friday evening was full and frank with many questions and discussions, particularly focussed around the A35 and the environment, along with issues specifically about Chideock. That is why I wrote to all Chideock villagers and asked if they would like to attend, and attend they did – a considerable number.
"But one of the great sadnesses of being an MP is dealing with the threats and risks that we face. The murder of Sir David Amess a year ago at his constituency surgery put that into the limelight.
"The reality is that, threats, sometimes nasty to my family and I, are everyday realities. Being mobbed by dozens of people in Dorchester two years ago when someone attempted to remove my own facemask. My Mum and Dad targeted online and, as The Times and The Sunday Times reported last year, the very real risks to my safety.
"Those risks now mean that I have to let the police know where I am most of the time. It means that I need a panic alarm in my own home. And as a result, it also means that I have to let them know of anything out of the ordinary. In this case, it is unusual to receive the interest of two people who were not invited to attend a localised surgery.
"If the police had cause to visit anyone concerning this surgery meeting, I am not aware of the reason why and it is a matter for the local police to answer. But I can confirm I have not requested the police to visit anyone."
Mr Loder recently said the condition of the River Lim and the water quality of Lyme's Church Beach had "concerned" him and he was lobbying "to ensure all organisations involved can follow a consolidated, aligned plan of action", with particular focus on South West Water to improve their environmental performance in the area.
Ms Glock and Ms Swan are members of the Lyme Regis Bluetits swimming group and the River Lim Action Group, both of which campaign to clean up the River Lim and beaches in Lyme Regis.
The Lyme Regis Bluetits had previously asked to meet Mr Loder but claim he failed to attend two organised meetings, giving reasons that his computer had a flat battery, and that he had to attend another urgent meeting.
The River Lim was described as "toxic" after dangerous levels of faecal bacteria were found in the water earlier this year, with two spikes of E.Coli also recorded in bathing waters off Lyme Regis beach over the summer, which could see the town's water quality rating downgraded.
"This is a legitimate cause of public concern", said Ms Glock.
"We are desperately worried about the quality of our swimming water and urgently need it to get back on track as we have thousands of people swimming all year round.
"We would expect Mr Loder to be 100% behind that and not sending the police round to people who ask questions about it."