A celebration of Rita's life and her memory is just one of many special and treasured moments at local Light Up a Life event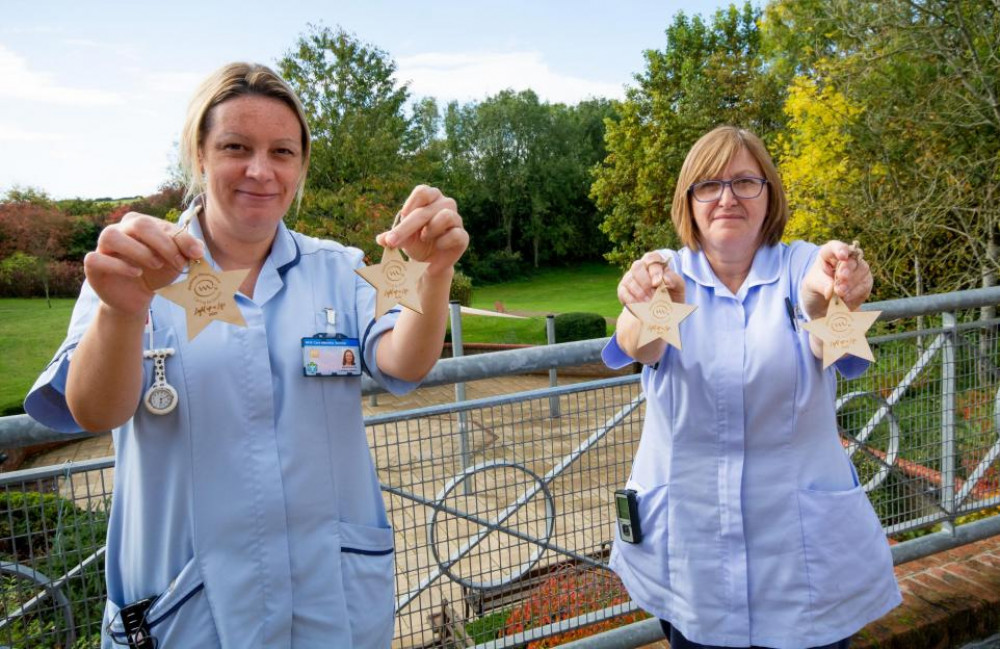 Lindsey (left) and Mel (right) are part of the In patient Unit team at Dorchester Weldmar Hospicecare, who are hosting a Light up a Life services next month.
A charity that offers specialist care for adults with a life-limiting illness is hosting an event in Bridport next month as part of the regional Light Up a Life Campaign.
Light up a Life in Dorset will see a number of events across the region where services of remembrance will take place. They will feature traditional hymns, readings and reflection and be held around a tree.
Weldmare Hospice Carewill be hosting an event on Friday, 2 December at 6.30pm at Groves Nurseries, West Bay Road, Bridport.
Anyone can dedicate a light to a loved one on the tree whether they were cared for by Weldmar or not.
Gloria McCartney, Supporter Care Lead in Weldmar's fundraising team, said: "We know that Light up a Life is a very special way for people to remember their loved ones in the run up to Christmas.
"We often hear from those who dedicate a light every year that it really marks the start of Christmas for them.
"Not only is it a chance to remember those who will be missed, but the donation in return for dedicating a light means that Weldmar can continue to provide specialist care for people living with a life limiting illness in Dorset, and supporting their loved ones too."
Among those attending a service in Dorchester will be members of the family of Rita Meaden, who passed away at the charity's inpatient unit in Dorchester five years ago.
Family members, including daughter Lynn and granddaughter Lucy, will be remembering her once again through Light up a Life. Lynn says, "We go to the service at the hospice every year as I feel a real connection there. There is something very special about the service, and going to hang our star on the tree."
Rita became unwell in 2017, and it all happened very quickly, as Lynn explains. "She was diagnosed with Motor Neurone Disease that November, which came out of nowhere. The diagnosis was just 12 days before she died. It progressed so rapidly, and the Senior Palliative Care Nurse at Yeovil hospital referred her to Weldmar. "
"I travelled in the ambulance with Mum, and the thing that touched me immediately is that we were taken through the front door of the building. Not ushered in through the back, but right through the front. I thought that said a lot. Two nurses were waiting to receive her, and she was put a beautiful room."
Lynn says the team at the Inpatient Unit made them feel so comfortable and welcome. "Mum was assessed very quickly by Dr Peter. She was frightened and distressed with what was going on, but after he administered medication she calmed down as was in a better place. As a family, we were also looked after for the five days we were there, until Mum died.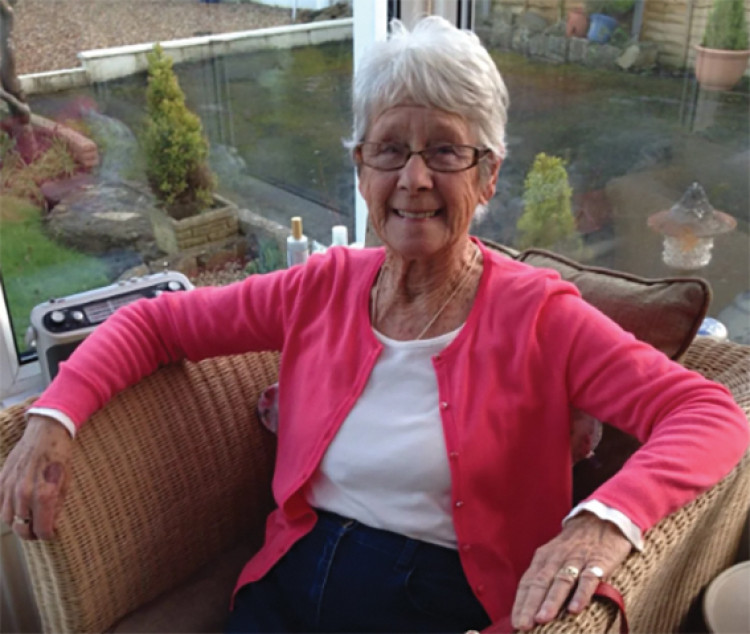 As a result of the family's experience with Weldmar, they have become regular supporters, donating to our charity shops, buying Christmas cards and books, taking part in fundraising events (Lucy has just completed Weldmar's Overseas Challenge in the Sahara, and is a Volunteer Ambassador), and of course, attending Light Up A Life.
"For me," explains Lynn, "it's makes my grieving process more comfortable, especially because I know how well Mum was cared for. The service is perfect, the right balance of carols and readings, not too long, and feels more traditional than religious. It has a place in our hearts.
You can find out more about Light Up a Life and the Bridport event via this link.
Those who dedicate a light in return for a donation to Weldmar Hospicecare will also receive a wooden star to hang on their local tree or personal Christmas tree, as well as a handwritten card from Weldmar, and a copy of the order of service.